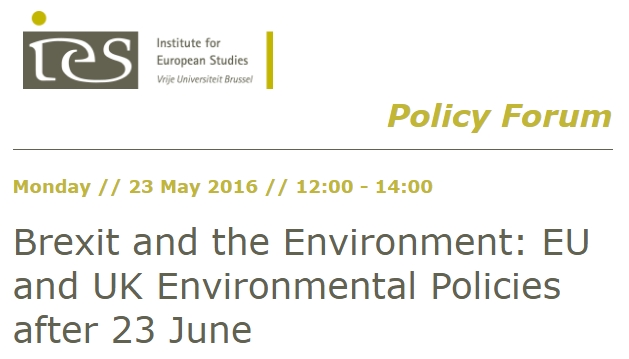 EU and UK environmental policies after 23 June
Discussions on the UK referendum have mostly been focusing on a handful of issues (sovereignty, freedom of movement and red tape). Yet after 40 years of active UK membership of the EU, most, if not all, sectors of policy and of the economy will be affected by the outcome of the vote. The environment and climate change are sectors in which UK and EU practices have become very deeply entangled. 'Brexit' raises the prospect of considerable change in the future for UK and also EU policies in these areas. What role does environmental policy play in the UK referendum debate and what do possible and plausible post-Referendum scenarios entail for UK and EU environmental policy?
This Policy Forum will provide an opportunity to debate a new expert review of the academic evidence on these topics (available at http://environmenteuref.blogspot.be/) and what might change in the UK and at EU level in the event of a British vote to Remain in or Leave the European Union on 23 June.
Speakers:
    Charlotte Burns, University of York
    Viviane Gravey, University of East Anglia
    Mike Childs, Friend of the Earth (EWNI)
    Tony Long, Global Governance Institute
    Sebastian Oberthür, Institute for European Studies, VUB (chair)
Storify of the discussion.
Event Details
Brussels
2016
23 May 16
12:00 PM