Climate Change
Why Climate Change matters
Brexit has the potential to impact both UK and EU climate policy. The UK has traditionally been a driver for more ambitious climate policy at the EU level and Brexit could slow down the EU's progress.
At home, however, there are concerns that Brexit negotiations will divert attention from it and that the lack of external pressure from the EU will allow the government to weaken climate regulations.
Our publications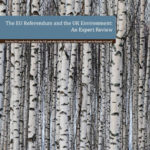 Read the chapters on International Policy and Climate Change in our Expert Review on EU referendum and the UK Environment (published in April 2016).
Our blog posts
Read all our relevant blog posts (most recent firsts) below: