International Policy
Why international policy matters
Environmental challenges have cross-border dimensions: pollution in one country can lead to negative impacts — such as acid rains on forests, or highly polluted air in cities — in neighbouring countries; wildlife crime in highly biodiverse countries is fuelled by demand in other countries and climate change affect us all.
The UK and the EU have long played a central role in environmental international policy, from tackling wildlife crime to addressing climate change. How will Brexit affect the UK and the EU's ability to influence international negotiations, and will Brexit drive a re-evaluation of their negotiating objectives or methods?
All our publications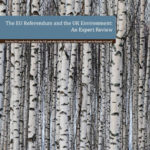 You can read the international policy chapter in our EU referendum and the UK Environment Expert Review (published April 2016).
All our blogs
You can find an archive of all relevant blog posts  (most recent first) below: