Land Use Planning
Why Land Use Planning matters
Out of all environmental policy areas, land use planning has been one of the least 'europeanised' — one where the influence of EU policy and practice has been most limited.
This means land use planning offers a critical insight into what UK environmental policy may have looked like outside of the EU — with important differences across the devolved nations and a greater priority given to reducing costs for businesses.
All our publications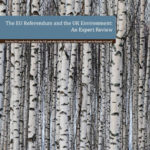 You can read the Land Use Planning chapter in our EU referendum and the UK Environment Expert Review (published April 2016).
All our blogs
You can find an archive of all relevant blog posts  (most recent first) below: