Energy
Why Energy Matters
Brexit raises questions regarding the UK energy mix as well as UK participation in a broader EU energy market.
While EU law lets each country decide its own mix, Brexit is likely to impact different components of the UK's. A government decision to leave Euratom will make it more difficult for the UK nuclear  sector to develop further, while leaving the EU would free the UK from renewable  targets. Brexit is further seen by some actors as opening the way for fracking, at least in England.
The broader EU energy market is currently undergoing significant changes as the EU is developing its Energy Union. Planned interconnectors between the UK and France and between Northern Ireland and the Republic are, for now, going ahead irrespective of Brexit.
Our publications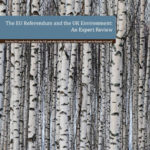 Read our Energy chapter in our Expert Review on the EU referendum and the UK environment (published April 2016).
Our blog posts
Read all our relevant blog posts (most recent firsts) below: