Chemicals
Why chemicals matter
The European Union has played a central role in this area. Its 2006 REACH Regulation (Registration, Evaluation, Authorisation and Restriction of chemicals) provides the gold standard for chemical regulation worldwide, with industries outside of the EU complying with it in order to export their products to the EU Single Market.
They offer a perfect example to raise cross-cutting questions of post-Brexit technical collaboration between the UK and the EU (will the UK set up its own chemical agency?), and of the impact of regulations and 'non-tariff barriers' on trade.
Our publications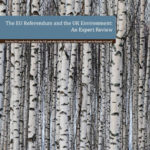 Read the Domestic Law and Legal Procedures chapter in our Expert Review the EU Referendum and the UK Environment (published in April 20160.
Our blog posts
Read all relevant blog posts (most recent first) below: