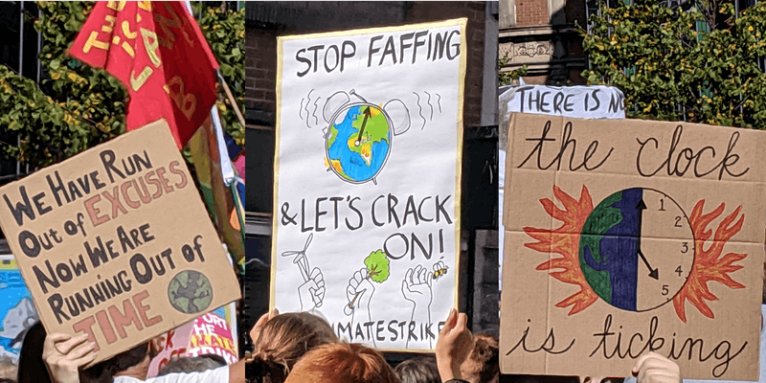 Legislating for Climate Action on the Island of Ireland
2021 year is a busy year for climate action. Ahead of the COP26 in Glasgow in November, the Environmental Governance Island of Ireland Network is organising a discussion on recent efforts to legislate for climate action on the island of Ireland: the new Irish Climate Act 2021 and the two proposed Climate Bills currently under scrutiny by the Northern Irish Assembly. Both jurisdictions on the island have a history of environmental inaction and being laggards in climate action. How do these new/proposed laws compare between each others and with Climate Laws around Europe? Are they ambitious enough in the face of the ongoing climate emergency? What opportunities is there to build cross-border and all-island climate action?
The event will be held on Zoom 10 AM-12 BST, with login information sent to every registered attendees. You can register on Eventbrite here.
Our two guest speakers:
Diarmuid Torney is an Associate Professor in the School of Law and Government at Dublin City University. His research focuses on climate change politics and governance. He is co-director of Dublin City University's Centre for Climate and Society and director of the MSc in Climate Change: Policy, Media and Society.
Anurag Deb is a PhD researcher at the School of Law at Queen's University Belfast and a paralegal at KRW LAW LLP. His research and practice involve significant elements of public law and he is also the lead drafted of the the first Northern Ireland Climate Change Bill, currently progressing through the Northern Ireland Assembly.
The event, open to all, will be co-chaired by Dr Finbarr Brereton (UCD) and Dr Viviane Gravey (QUB), joint leads of the EGII network.
The Environment Governance Island of Ireland (EGII) Network is co-funded by the ESRC and IRC, it brings together academics from Queen's University Belfast and University College Dublin as well as civil society representatives. Find out more 
Event Details
Online event
21 Oct 21
10:00 AM