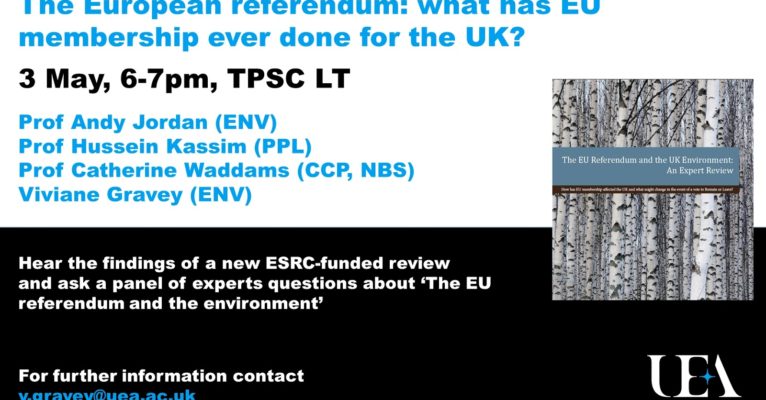 What has EU membership ever done for the UK?
The EU referendum campaign is mostly focusing on a handful of issues (jobs, the economy and migration). Yet after 40 years of EU membership most, if not all areas of daily life will be directly impacted by the vote on 23 June. The environment in particular will be affected given all the EU rules on energy, climate change, farming and fishing.
This panel discussion will provide an opportunity to discuss the findings of a major, impartial ESRC-funded review 'The EU referendum and the UK environment' and ask a panel of experts how EU membership has affected the UK and what might change in the event of a vote to Remain or Leave. The aim is to inform public debate rather than make a case for Remaining or Leaving.
Speakers:
Prof Andrew Jordan, UEA School of Environmental Sciences and Tyndall Centre, a lead author of the ESRC expert review and a specialist advisor to the House of Commons inquiry on EU/UK environmental policy.
Prof Hussein Kassim, UEA School of Politics, Senior Research fellow ESRC 'UK in a Changing Europe Initiative'
Prof Catherine Waddams, UEA Centre for Competition Policy & Norwich Business School
Viviane Gravey, UEA School of Environmental Sciences and Tyndall Centre, a lead author of the ESRC expert review
Event Details
University of East Anglia, Norwich
2016
3 May 16
06:00 PM