What objectives for Brexit?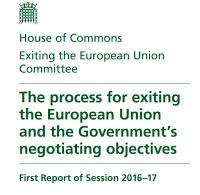 The House of Commons Exiting the European Union Committee released its first report today, on the UK's negotiating objectives for Brexit. The report calls for clarification ahead of triggering of article 50 on a number of issues; mostly Single Market & Customs Union membership. It also calls for a transitional arrangement, and a parliamentary vote on the final deal.
The report is almost silent on the environment — although written evidence to the Committee, from the Greener UK campaign and from ourselves notably — raised many environmental issues with Brexit. Yet some of the overall points the report make are particularly salient for the environment:
Need for "clarity on location of former EU powers between UK and devolved governments."
Agriculture, environment, fisheries are all devolved matters. Who will be replacing the CAP after Brexit? Will it be Westminster or the devolved administrations?
Concerns about the administrative capacity to deliver and implement new policies. 
This, as the report points out, will be especially difficult for DEFRA :
"On top of its existing commitments, DEFRA will need to develop a replacement for the Common Agricultural Policy; develop an approach to trade policy and relations with the EU; work through the implications for devolution of repatriating legislative competences in agriculture and environmental regulation; and decide its approach to existing EU legislation. This will be expected with a budget that by 2020 will be 34 per cent lower than it was in 2011 and with a staff headcount already 35 per cent smaller than it was in 2011."
Collating together evidence from many sectors, and achieving the backing of the whole committee (Hilary Benn MP told Radio 4
Today Programme
that the report had been voted unanimously) means making tough choices in what is discussed and reported. This report is far from calling for a
'green' Brexit
, but its lack of attention to the environment (mentioned 5 times), agriculture (3 times) or fisheries (twice) can be put into perspective: it only mentions immigration three time.