Fighting zombie legislation: Latest Commons EAC report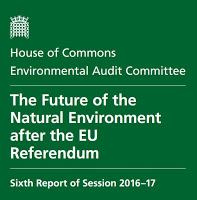 The House of Commons Environment Audit Committee just published its new report on the future of the natural environment after the EU referendum.
Building on more than 160 pieces of written evidence and more than 20 auditions, it raises  a number of concerns for both the UK environment and farming in the wake of the Brexit vote.
Environmental legislation is still at risk
Environmental legislation, even with the Great Repeal Bill, could become 'zombie legislation', not properly enforceable nor able to be revised. While the Great Repeal Bill addresses some regulatory gaps, up to a third of EU environmental legislation is hard to transpose and the underpining governance arrangements also need to be replaced. The MPs argue a new Environment Protection Act is needed to fill these gaps.
Lack of clarity of government policy 
While we hear much about the lack of clarity of Brexit negotiation goals overall, there is also no clear objectives for agriculture or the environment — the 25 year plans have long been promised but not yet delivered. There is also no clear answers to need for coordination on environmental matters between devolved administrations and Westminster.
Farmers at risk from Brexit
UK agriculture is set to be one of sectors most affected by Brexit, which puts them in a 'triple jeopardy': the loss of CAP subsidies (with uncertainties surrounding future British agricultural policies), additional barriers to export to EU Single Market which will hit sectors like sheep farming toughest and risks that new trading arrangements will put UK farming into competition with international competitors with lower costs and animal welfare standards.
EUrefEnv authors have contributed to the report, giving both written and oral evidence, which were both cited in the final report. In the summary and discussion around the report, the idea of UK environmental legislation becoming 'zombie legislation' is repeatedly mentioned. EUrefEnv Andy Jordan first developed this idea of zombie legislation in his evidence to the House of Lords EU Select Committee in July and then in a blog post for the Environmentalist the following month.