25 year environment plan: 'Global gold standard' or green wash?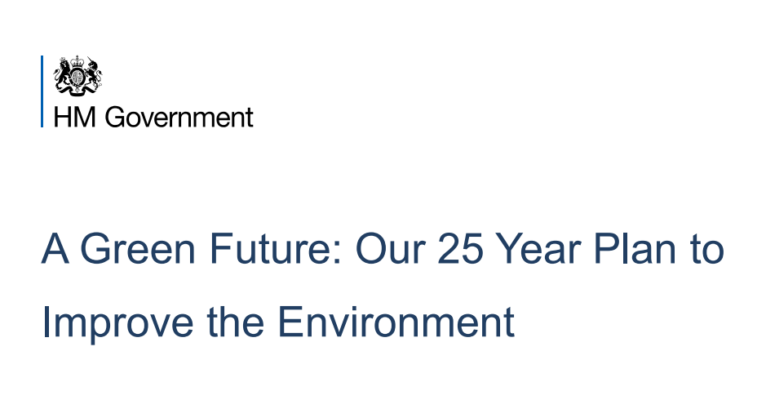 The much vaunted and long awaited 25 year environment plan has been published at last. Setting the government's policy priorities up to 2043, the plan is a key plank to deliver on the rather vague Conservative manifesto commitment that the current generation will be the first to leave the natural world in a better state than it was before. And the vagueness of this commitment (How long is a generation? Better condition in all sectors or just some? Better condition on average? How can we hold a government to account across a generation?) is mirrored in this plan.  There are of statements of good intent. The foreword states that the goals of the plan are simple: cleaner air and water; plants and animals which are thriving; and a cleaner, greener country.
Having long-term policy priorities for the environment is a good idea. Ecological timescales and the impacts of interventions to improve environmental standards rarely correspond with electoral cycles. However, to be meaningful long-term targets must be broken up into reasonable interim targets with appropriate incentive and legal structures to support implementation and enforcement. Whilst there is a commitment to developing a set of metrics to assess progress towards the 25-year goals, the detail is yet to be determined: a consultation will follow in 2018.
What about governance?
The question of governance will  be central to the delivery of these goals. As has been well explained elsewhere, one challenge posed by Brexit is that the UK will no longer sit within the EU's extensive environmental governance architecture. The EU currently provides independent, extensive, monitoring, implementation and enforcement for environmental policies and environmental principles that underpin policy ambition. On these questions there are set of welcome commitments in the plan to set up a new independent body to hold government to account and a new set of environmental principles to underpin policy-making. However, again there is little detail about the powers of this body and whether it will be sufficiently independent and powerful to be able to hold the government to account if and when it slips on delivering its ambitions.
How ambitious is the 25 year plan?
Similarly there is a lack of ambition on dealing with plastics, dubbed by May as the 'scourge of the environment'. Jumping on the Blue Planet 2 plastics bandwagon is all very well, but despite a recommendation from the Environmental Audit Committee for a deposit and return system for plastic bottles, there is no commitment to do so here.  There is a belated commitment to bring England in line with Welsh and Scottish policy of having a 5p tax on all plastic bags, and an ambition to eliminate all avoidable plastic waste over the life-time of the plan, but again limited detail on how that will be delivered. Similarly there is no commitment to a new Environment Protection Act to provide a legislative focus and spine for future activity as called for by the Environmental Audit Committee.
Furthermore, ministers will need to rely on external actors to deliver many of the objectives in the plan. There is a commitment to developing a Northern Forest along the M62 corridor, but it looks as if this project is dependent upon private sector funding. Plans to improve flood prevention and biodiversity through a 'nature recovery network' will also rely on private and voluntary resources. Similarly, the water industry and pesticide manufacturers "will be encouraged to develop good practices" (p. 102) – but we don't yet know how the government intends to incentivise them to do so. And it remains to be seen whether cash-strapped local authorities will be able to fund initiatives to reduce fly-tipping and improve waste management.
Only for England?
Finally it is worth noting that this plan only covers England: the environment is a devolved issue. Theresa May claimed that the devolved authorities were involved in the consultation process, although given the on-going controversy about the EU withdrawal bill one can't help wondering if this took the form of the 'telling rather than asking' type of consultation. There is little detail here on whether future enforcement will be coordinated, or what kind of common frameworks this plan will lead to across the UK as a whole.
In the case of Scotland and Wales, both of which have ambitious environmental policies, there is the possibility that this plan will dovetail nicely with their existing policy priorities make long-term coordination viable and productive. In the case of Northern Ireland, this focus on England is more problematic. Northern Ireland still lacks a government and lags behind the rest of the UK in environmental governance (there is still no independent Environment Agency). The achievement of policy goals requires both UK-wide ambition, and continued North/South cooperation.
When Michael Gove became environment secretary and did his best to woo the environmental movement, I along with others, noted that he was talking the talk but we had yet to see if he would walk the walk. I am still waiting. This plan is welcome in terms of its stated ambitions, its acceptance of the complementarity of environmental protection and economic prosperity and its evidence that the Secretary of State has been listening to the ENGOs about the challenges posed by Brexit. But now the crucial test is the detail: the timelines and policies that will make the difference between another piece of well-meaning greenwash and a truly ambitious 25 year environment plan.
About the author
Charlotte Burns is a Professorial Fellow at the University of Sheffield.