UK fisheries & the EU referendum: What's the catch?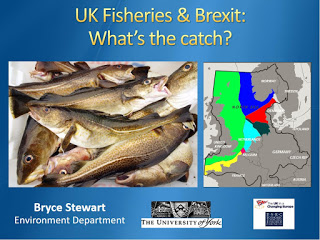 Compared to most environmental issues, the future of UK fisheries is being hotly discussed in the on-going EU referendum campaign. In recent days, the Leave campaign in particular has engaged with the topic, as illustrated by the 'Brexit flotilla' led by Nigel Farage in central London last week. The NFFO (National Federation of Fishermen's Organisations) has not taken side, but has hosted on its website
both sides of the argument
. Recent polling of fishermen across the UK has shown that up to
92%
of them were in favour of a vote Leave. 
At the heart of the debate is (1) the past, present and future impacts of the EU's common fisheries policy on the UK's fishing communities, (2) the sustainability of fish stocks and whether fishermen are best placed to judge what constitutes a sustainable catch, (3) how fair is the current system for British fisheries and whether they would get a better deal by voting out.
Bryce Stewart addresses these questions in his chapter in our EU referendum and the Environment expert review. He has since shared its main findings in many blogs, including The Conversation and the NFFO website. Two weeks ago he presented his work at the Maritime Foundation.
You can watch part of Bryce's presentation, access his full slides and fact-sheet below:
More information: