Environmental principles and governance: Brexit and Environment's key messages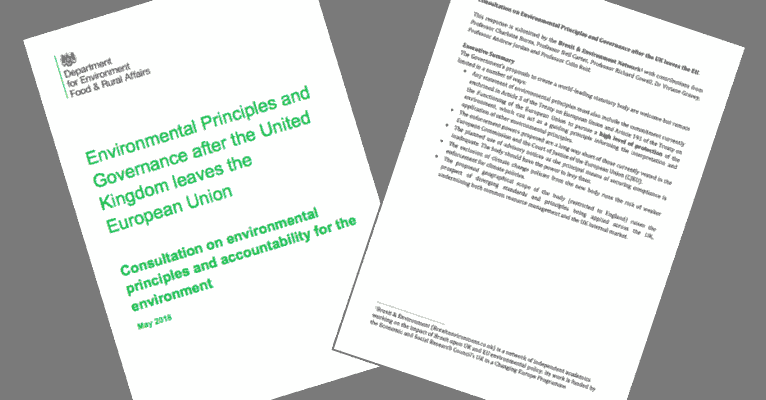 From 10 May to 2 August 2018, the UK's Department for Environment, Food and Rural Affairs (Defra) ran a public consultation on post-Brexit environmental principles and governance. The members of the Brexit and Environment network submitted written evidence to the consultation summarizing our researchers' advice on this topic, informed by the network's academic research and parliamentary evidence. This blog post presents four key messages from that submission.
1. UK environmental principles should include a commitment to pursue a high level of environmental protection: In the EU Treaties, environmental principles interact with one another in the context of a broader, longer-term aim of a high level of environmental protection. Our evidence advises the UK Government to include such a principle in its approach to environmental governance. It also calls for principles that commit the UK to use the best available scientific knowledge, to respect subsidiarity and to prevent transboundary harm.
2. The environmental watchdog should be given stronger enforcement powers: The enforcement powers proposed for the watchdog fall far short of those currently vested in the European Commission and the Court of Justice of the European Union (CJEU). The planned use of advisory notices as the principal means of securing compliance is inadequate. The body should have the power to levy fines against the government, local authorities, and arms-length bodies. Fines have a strong deterrent effect; they focus the minds of ministers and civil servants in a way that domestic judicial review proceedings do not.
3. The environmental watchdog's remit should include climate change policy: In its consultation document, Defra suggested that the watchdog would not be responsible for climate policy. However, this would raise the risk of weaker enforcement of climate policy. Moreover, this approach is not supported by the Committee on Climate Change (CCC). The watchdog should include climate change policy and coordinate with the CCC to ensure that all environmental legislation is subject to the same standards and enforcement regime. Indeed, the new body could use CCC reports to press the Government to take the necessary actions to meet its commitments under the Climate Change Act.
4. The UK Government should consult with the devolved administrations on the environmental watchdog and coordinate after Brexit: Defra's consultation document suggests an England-only environmental watchdog. However, given the transboundary nature of many environmental issues, transparent, genuine consultation with the devolved administrations is required in the design of the watchdog. Both before and after Brexit, the watchdog will also need to coordinate with the devolved administrations – and any devolved environmental watchdogs – to ensure that policy divergence does not lead to inconsistent environmental protection.
Further discussion of each of these topics and others can be found in Brexit and Environment's written evidence.
Brendan Moore is the Brexit and Environment network coordinator.