Legal Matters
Leaving the EU raises several legal issues with environmental impacts. The Government has committed to 'cutting and pasting' EU environmental rules into UK law via the EU Withdrawal Bill to prevent any regulatory holes emerging when the UK leaves. However, ministers have argued that around a third of EU environmental policy cannot simply be copied into UK law, for example in cases where it makes reference to EU institutions.
Another concern is that the UK lacks the capacity to develop, implement and enforce environmental policy, tasks that have until now largely been carried out at the EU-level.
Lastly, without recourse to the Court of Justice of the EU, a key concern for environmental groups is how to monitor the government to ensure it stays on track with its environmental policy and how to hold it to account.
Our publications on legal matters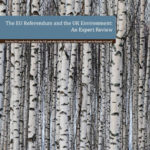 Read the chapter on Domestic Law  and Legal Procedures in our Expert Review on the EU Referendum and the UK Environment published in April 2016.
Read Colin Reid's (2016) article Brexit and the Future of UK Environmental Law in the Journal of Energy & Resources.
Blog posts on legal matters