Air Pollution
Why air pollution matters
Air pollution across Europe is back on the policy agenda, with many European countries failing to meet EU standards for air pollution, even though these fall short of World Health Organisation recommendations.
It is a transboundary problem – pollution in one country can have negative impacts in another, as was the case with acid rain in the 1970s. This raises questions of future collaboration between the UK and the EU. It is also at the heart of a legal battle between the environmental group ClientEarth and Defra. This battle depends on the binding EU nature of current air pollution targets, raising further questions about the ability of civil society to hold government to account if it breaks pollution targets after Brexit.
Our publications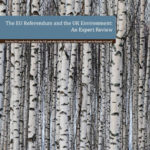 Read the Environment Quality and Domestic Law and Legal Procedures chapters in our Expert Review on the EU referendum and the UK environment published in April 2016.
Our blog posts
Read all our relevant blog posts (most recent firsts) below: